Finest T-Shirt Printing Company in Tirupur For Your Brand
Your search for t-shirt printing ends here!
Ajna Clothings is a leading manufacturer of printed t-shirts in Tirupur, providing premium quality t shirts as per customer requirements at the best price. We are the one-stop solution for all your customized t-shirts and also print t-shirts with different styles and sizes for men, women, and children to suit your budget and styles. We also provide printed T-shirts for Get-together, Events, college fests, corporate uniforms, promotional wear, marathon, protest, school uniforms, sportswear, etc. We had an excellent experience for more than a decade in making out the best. If you are quality conscious, then you came right place for the best printing services in Tirupur. Contact us now! we can manage all your garments for printing and also for other retailers with fast delivery.
If you are looking for the best "T Shirt printing company near me" in Tirupur? Ajna Clothings is the most reliable t shirt printing service and bulk t shirt supplier in Tirupur, we supplied bulk t-shirts to companies, institutions, and individual customers and till now there are more than 80000 happy customers. As we are leading printed t-shirt manufacturers in Tiruppur, Tamil Nadu, we print and supply superior quality t-shirts with the finest cotton fabrics and unique designs which ensure a comfortable fit and unique styles. Are you looking for the best bulk t-shirt printers or printing company in Tirupur? Contact us today.
Why  We Best for Printing Tee Shirts?
Guarantee for the longest durability of Fabric, Printing, Embroidery & Stitching.

We make using Screen printing, DTG, MHM printing, Rotary printing, Table printing, etc.

We manufacture premium quality of  blank t shirts, printed t shirts, corporate t shirts and polo t shirts for men, women & kids.

Provide Free shipping anywhere in the world.

You are getting custom tee shirts directly from a manufacturer.

Offer discounts if we miss our commitment.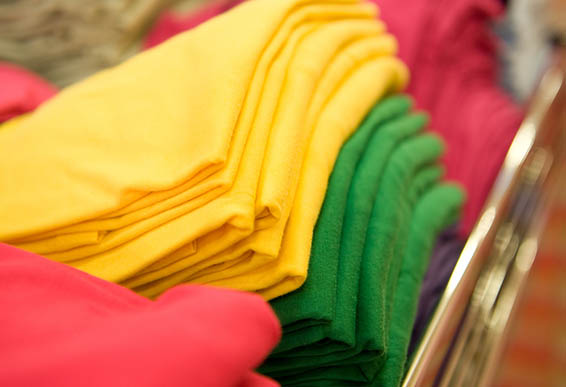 Bulk Custom T-Shirt Printing in Tirupur
Ajna Clothings is the best bulk t shirt manufacturer in Tirupur for customized specifications. We provide bulk t-shirts for a lot of online brands in India. Many online t-shirt brands believe in our quality and service and we continue to serve them for the last 12 years.
As a reliable wholesale t shirt supplier in Tirupur, we have ready stock of fabric in 30 color shades, which makes it easy to print bulk t-shirts within time. Besides, we offer free shipping for bulk t-shirts orders from anywhere in the world.
We always wanted to stand apart, and that's we say CUSTOMIZE YOUR DREAMS.
You can order bulk customized t-shirts for men and women at an affordable price with us. Once a commitment is done from our side for the quality, we deliver the t-shirts 100%. If you are looking for bulk t shirt printers in Tirupur, then we are the best company to order. We are a team who has great merchandising experience and experts in processing the ordering and delivering it on time.